Opening:
Individuals:
Every days in April (at same time of the exhibition MISTER TULIP in the park).
Every Sunday from May to November (Aug closed).
Groups (over 15 people):
Every days from April to November (Aug closed)
Time: from 10 to 18
For more information for scheduling the groups tour: call 011 884870 – 0118140981 or pralormo.design@libero.it
 ….We will see together the prisons of the castle ,the heart of the house where daily rites dedicated operations for the great mansion ,the fire ,the water,the light ,the food ,the rooms,full of history and memories of famous persons, the living room to the reunions of family ,childish game and female hobby, and finally stately saloon suggestive of music,dance and convivial time, lived for more than three hundred years from our family that preserves with passion and devotion this house to welcome you.
Filippo and Consolata Beraudo di Pralormo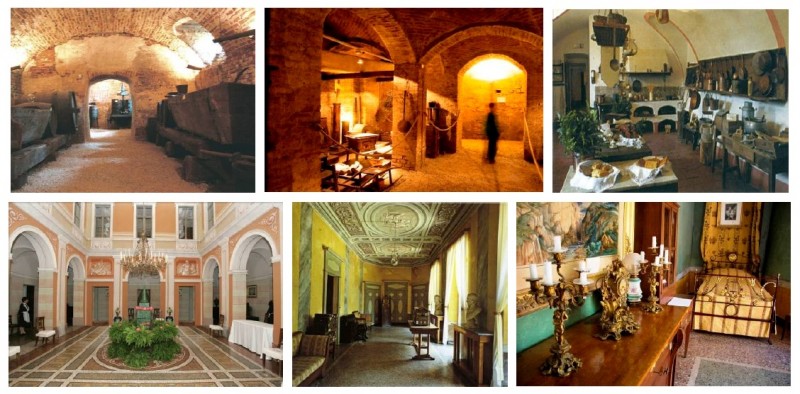 The visit proposes to illustrate to the visitors some of the principal environments of the castle showing them how lived the people in the castle between the half of the XIX° century and the beginning of XX° century.
The itinerary unties trough different environments penetrating in the most intimate zone of the mansion: the wine cellar used for the equipments for the grape harvest and the winemaking, the office where earthenware and china tableware, silver and crystals are preserved; the servants room where the personnel of the castle had his own lunch table, the closet of liveries and the special heater for the irons from stretch; the kitchen with copper pots, mortars of stone ,the roast coffee, the iceboxes ,the shape for the cake, and other innumerable tools they served to the cooks and the patissier made theirs dainty and magnificent dishes; the bathroom of majolica colored with an imposing and elegant boiler; the great saloon of Honor the most spectacular environment of the project that in the mid of the 1800 have turned the fortitude into an abode of elegance ;the floor is a venetian mosaic and it takes back of the colors of the inside ones while a sumptuous chandelier recalls the parties and the dances of the past.
At the end the dining room in neoclassic style where is prepared the table for an important occasion; the study of the ministry Carlo Beraudo of Pralormo ambassador in Wien and in Paris decorated in Pompeian style and rich of historic memories; the blue sitting room where the visit ends, which walls and the arch of the ceilings, completely painted a trompe l'oeil, with the same motive for a drapery gives all environments an atmosphere of intimacy and they recall afternoons among friends to embroider, an ancient baroque piedmontese tradition used for embellished the abodes.
All the images of website are covered by copyrights.